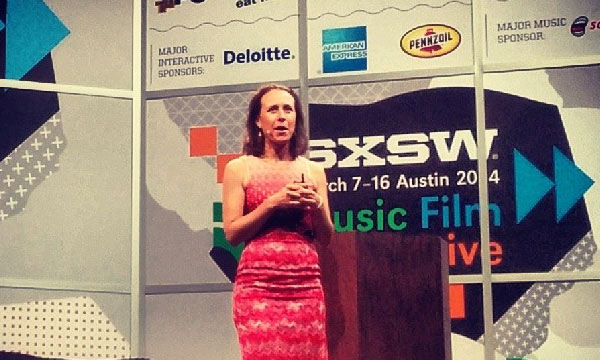 After a day of celebrities yesterday, day 3 of SXSW saw a much more focus on health; specifically the impact that wearable technology is having in the digital health area.
The day started with a session from Gadi Amit, president of NewDealDesign LLC, a strategic design studio in San Francisco who created the FitBit's form factor.

In this session, Gadi reminded us of the mainstream adoption that wearable technology is having, and the benefits of tracking our data. However it was a couple of the key failures (in his eyes) that are most important to look at.
Gadi explained that fashion is not a major trend for wearables. This is because people change their outfits numerous times throughout the day, or at least each day. A wearable device, therefore, needs to be discreet, perhaps even hidden. This is something we discussed in our day 1 blog post.
He also discussed Google Glass, stating the current form factor relies on people looking up to the corner of their eye. Because eye contact is a core part of social interaction, this does not work. But perhaps Glass 2.0 may solve this issue?
Next up was Stephen Woolfram, who's search engine Wolfram Alpha powers both Siri and University student's research around the world. He took us through a new tool from Woolfram Research, called Woolfram Language.
Woolfram Language makes coding with vast amounts of data seriously easy; and fast! Or at least when the creator behind the wheel it is. Stephen explained how the tool can be used to create, manipulate and manage data. All of which may have a huge impact of digital health and wearable devices, which pump out body data for millions of people 24/7.
Day 3′s keynote was Anne Wojcicki, Founder and CEO of 23andMe – the DNA mapping service anyone can do for just $99.
Anne spoke about the company, specifically on the recent decision to stop offering health data (risks of disease etc.) due to an order from the FDA. This has certainly been a major issue for the company, but thankfully anyone who did use 23andMe before hand (like of few of the Ultra team did) you still have access to it.
The biggest fear in this area is data privacy. Letting a private company own your own genetic data is a step too far for some, and this sentiment has made 23andMe quite controversial. But Anne strongly reiterated that you opt in to sharing your data in aggregate, and can download your raw data at any time.
The celebrities didn't just stop yesterday though, as the final two sessions of the day were with hip-hop artist Nas, who interview Silicon Valley's Ben Horowitz on how to create a successful startup and be a good CEO, and Shaquille O'Neal who discussed wearable technology with Qualcomm's Rick Valencia.
Nas and Horowitz may have different stories to tell, but there were clear parallels and learnings that crossed over. The key lesson from their session was that you must choose your friends and business associates carefully, and in hard times, you must keep that personal relationship.
In Shaq's session, it was clear that wearable technology has become mainstream, with the FitBit as the most notorious device. Often we see sports stars put on weight following retirement, however Shaq puts his good shape down to walking and eating right, which is helped by his use of FitBit.
Read about the other 4 days of SXSW 2014 here.